New to SuDS?
Louise Walker, CIRIA
What is susdrain?
Susdrain is regarded as a trusted, independent, "go-to" resource by those delivering Sustainable Drainage Systems (SuDS). Susdrain signposts and shares good practice and it has a lot to offer in terms of resources on SuDS.
As of November 2019 the free resources of susdrain include:
142 Guidance documents (33 by CIRIA and 109 by others)
70 case studies
92 presentations
17 briefings
8 fact sheets
77 blogs
144 videos
104 reference documents covering policy (69), evidence (18) and research (17)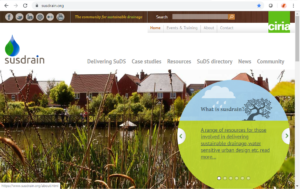 Resources are growing all the time and CIRIA would welcome suggestions for new content from anyone.
Where to start?
This blog is to help those people new to roles involved in SuDS delivery, or those completely new to SuDS in general. What if your boss says 'just have a look at the susdrain website' and you have a few hours to get yourself up to speed? In this blog I'll try to give some useful pointers for new users of susdrain.
About susdrain
In order to understand the provenance of what you are reading, it is a good idea to have a look at the 'About' page. This short overview briefly explains what susdrain is, how it came about and what is available to explore on the site.
About SuDS
For an easy to watch, yet informative introduction to SuDS, have a look at our exciting animation 'Ever wondered where the rain goes?'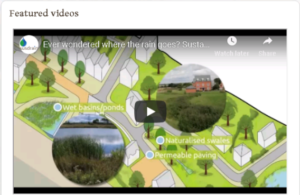 Case studies
Susdrain is home to a huge range of case studies from all over the UK. They demonstrate the advantages of SuDS over traditional drainage and show how they provide multiple benefits within the four pillars of SuDS: water quality, water quantity, amenity and biodiversity.
Delivering SuDS
The Delivering SuDS section provides high level guidance on SuDS, it covers what they are, the principles behind them and the huge number of benefits they offer, types of SuDS and how they perform, how to monitor performance, delivery of SuDS, costs and benefits, adoption and maintenance, legislation, regulation and design guidance. Each section is accessible independently so you can easily locate the information you need.
SuDS communities
The susdrain Knowledge hub provides content tailored to four key audiences: SuDS approvers; Developers; SuDS designers and SuDS champions These include infographics, briefings, recorded webinars, blogs, industry signposts and other useful links designed to help inform, influence and inspire the delivery of high quality SuDS through sharing knowledge and good practice. This is also where informal blogs like this one are published and it is where you can find information about upcoming events like the SuDS Awards plus free seminars and webinars as well as formal SuDS training.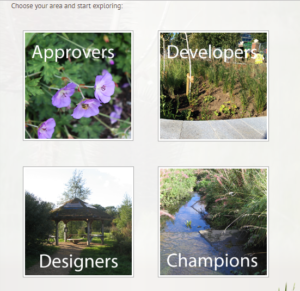 Guidance and resources
If your interest is sparked by reading about SuDS and you want more details, go then to the Resources section. There you will be able to download lots of guidance documents for free, including the SuDS Manual and Guidance on the construction of SuDS.
There are links to guides produced by other organisations as well as CIRIA publications plus links to technical fact sheets, briefings, policy documents, and evidence of performance. There is also a link to the increasingly popular Benefits Estimation Tool (B£ST) that can be used to evaluate the benefits of blue-green infrastructure.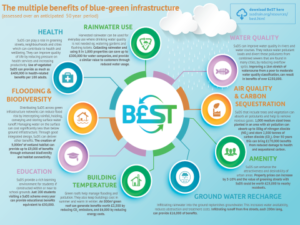 Presentations delivered at susdrain events since 2011 are also available to view as pdfs and on our YouTube Channel. See for example: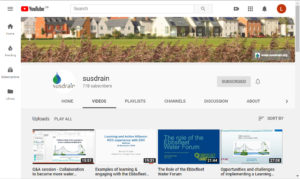 Useable content
Some of the PowerPoint presentations (for example an introduction to SuDS) can be downloaded, used and modified (with appropriate acknowledgement). The resources section is also home to the susdrain gallery. There are lots of photographs of SuDS which (with acknowledgements) can be used in reports and presentations.
Contact
susdrain can promote your SuDS event, find out more by emailing enquiries@susdrain.org
Get involved!
If susdrain sparks your interest and you would like to become more involved, why not attend one of our free webinars or come along to a free event?