Upton Meadows Community SuDS Fair
Peter Coombs, Vice President Business Development, Micro Drainage
Saturday's hugely successful SuDS Fair at Upton Meadows demonstrated the power of community engagement and the true value of SuDS to residents as a public amenity.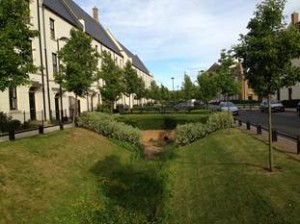 Congratulations to the Prince's Foundation and the University of Northampton for hosting an event which put the local people at the heart of the SuDS experience.  With everything from bumble bee surveys and dragon fly trails and a celebrity appearance by TV gardener Diarmud Gavin, the event was a true community celebration.
I was privileged to make a contribution to the days' events on behalf of Micro Drainage.  The effectiveness of broad stakeholder involvement has been a key theme of the Upton Meadows SuDS project from its earliest beginnings and it was good to see representation from so many organisations, including Anglian Water, Halcrow and Aviva.
One definite star of the show was a hands-on SuDS model provided by Herriott-Watt University complete with simulated rain to provide an interactive means for the 'Young at Heart' of all ages to try out the effect of SuDS features on water flows in a simulated township.
As a well-established SuDS project there are many lessons we can learn as professionals from the experience of Upton Meadows and in due course, I hope to be able to provide fuller insights and case study material via Engineering Nature's Way.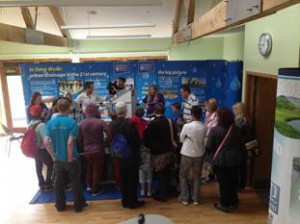 But for now Upton Meadows belongs to the local residents who turned out in force on summers' day to learn about the benefits of SuDS to them and how they can make choices to develop and manage the biodiversity and wildlife habitats on their doorsteps.
A great day for the cause of SuDS all round.