SuDS on Linear Assets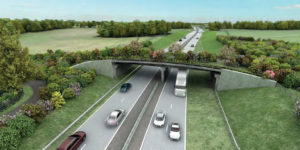 Written by: Jim Herbert, Civil and Environmental Technical Sales, ABG Geosynthetics
Linear assets such as Highways and Railways have a particular set of challenges when introducing SuDS features. Their footprint is long and thin with limited opportunity to adapt existing features to be part of a SuDS solution. As we pass the tenth anniversary of the Pitt Review, have we managed to introduce sustainable drainage practices to these sectors?
Traditional Highways design means drainage is generally designed to move surface water away as quickly as possible to reduce safety risks such as aquaplaning, and to prevent the ingress of water into the pavement structure and causing damage.
In recent years I've seen an increase in the number of Highways schemes that are looking to use SuDS techniques that use source control techniques rather than end of pipe solutions, which is great to see.
In March 2017 Highways England opened the A556 Knutsford to Bowden link road. The opening ceremony included planting a tree on the green bridge on a major Highway scheme, which forms a key part of the environmental mitigation plan for this scheme.
While the green bridge grabbed headlines the wider scheme included a large number of SuDS features such as filter drains, swales, detention basins and attenuation ponds which utilised geosynthetics to enhance the performance of these features. The scheme won a raft of Environmental and Sustainability awards.
July 2018 saw the Welsh Assembly published its "Green Corridors" initiative to further promote use of sustainable drainage principles to complement a wider biodiversity and vegetation plan to make major highway routes in Wales more attractive. The announcement made specific reference to incorporating sustainable drainage as part of this initiative.
Rail in the UK generally uses a permeable ballast construction, and so has been largely ignored by SuDS guidance. However there are still multiple reports every year of delays and closures caused by flooding. Perhaps adopting SuDS principles could help to reduce these problems.
In June 2018 HS2 published its vision of creating a green corridor to allow the largest construction project ever seen in the UK to blend into the surrounding landscape. The plan includes providing lots of environmentally beneficial features along the route in over 33 square kilometres of habitat with 7million trees and shrubs.
An example given is for the Warwickshire cutting which will be up to 15m deep, and will utilise a green bridge to provide access for wildlife to traverse the rail route in an area that will also create a number of wildlife habitats and ponds.
The headlines look good, but HS2 will need to work hard to deliver a railway that truly is a green corridor in the face of organisations such as the Woodlands trust who have described the plan as "Greenwash".
10 years on from the Pitt Review recommendation to make SuDS compulsory some good progress has been made. Many sectors now see SuDS principles as good practice. Permeable pavements, detention basins, blue roofs and many other SuDS features are becoming a normal part of construction.
However it seems that for linear assets SuDS is still seen as something of "nice to have" rather than a necessity. Hopefully celebrating the successes of schemes like the A556 coupled with high profile green corridor initiatives from high profile clients will be backed up by the planning authorities will help linear assets to realise the multiple benefits of SuDS construction methods.