How does a community green up their environment?
Owen Davies, Sustainability Engineer, Lambeth Council
Sunday 9th June was a typical British Summer day, overcast, cold and damp with a gentle North Easterly breeze ensuring temperatures would not exceed 15+, as a family we were considering whether to go to Chessington World of Adventures or the boys school summer fete, it turns out it would have been cheaper to go to Chessington, friends were coming over that evening for the traditional summer BBQ mainly to ensure the heat of the BBQ held off turning the central heating on for at least an hour.
Between the school fete and having to cook/cremate the BBQ that evening I was determined that I would get to Herne Hill to see the "Green up community festival" which was being organised by the "Urban Wild Project" with the Herne Hill Forum.
The Urban Wild Project is two residents who are working with the business community in Herne Hill to primarily look at greening up the roofs of the businesses in the area. But the Urban Wild Project are not stopping with green roofs they realise there is so much more which needs to happen and can happen, the festival was aimed to highlight the potential green roofs in the Herne Hill area and everything else which can go with it.
The event surpassed all my expectations, the work, organisation and thingys for the event, my experience of the event I feel can be broken down into five elements these are:
1)            Communicate Greening your Environment – There are two billboards under the railway bridge at the junction of Dulwich Road, Norwood Road and Halfmoon Lane, these billboards are at a prime location, however both of these billboards were transformed for the week, one was transformed with a Bee and the other transformed of images of green roofs and green infrastructure.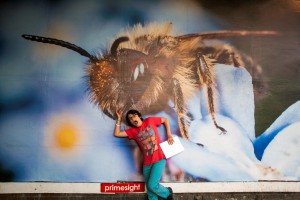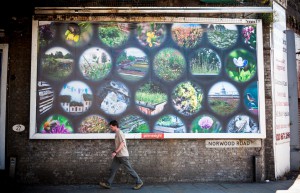 Courtesy Jonny Hughes design
2)            Change the environment – Lots of tables outside the pub and a few cafes had their tables covered in sedum mats to highlight what they look and feel like, this brings green roofs to everyone. Alongside this pupils from Christ Church School created some magnificent artwork which was erected in the alley way under Herne Hill station, which has transformed the tunnel with comments such as
"Love the school art exhibition in the tunnel at Herne Hill Station, what an uplifting end to the working day" – Resident
"I am surrounded by amazing artwork from Christ Church school in Brixton. Come have a stroll and a gander whilst I serenade you" – Herne Hill Piano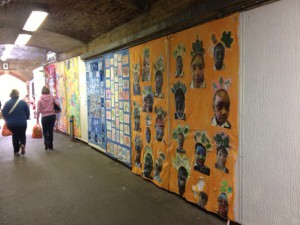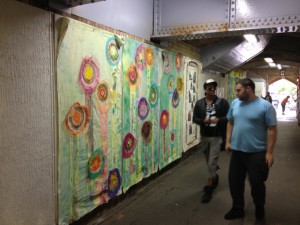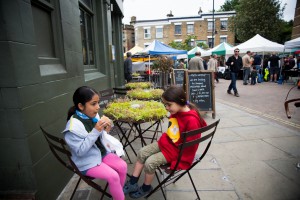 Courtesy Jonny Hughes design
3)            Inform – It's important that any event explains what is happening and how change can happen, along with information boards, similar to the one below. But alongside this there were also others at the event to help share the message such as Root's and Shoot's, John Little, David Perkins, Community Freshview, Buglife and more
4)            Have fun – One sure way to get a message across for people to understand is to have a little fun to convey the message. In the photo below Jonny Hughes set up two periscopes in the alley way linking Railton Road and Dulwich Road. On top of the wall there was either a Bee saying hello or a miniature gang building a green roof.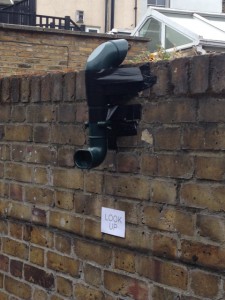 5)            Evidence – It is well documented that green roofs cool in the summer as they allow evapotranspiration, however what is less well know is how this effect works on a micro scale though this was duly tested on Sunday. The tables outside the commercial pub in Herne Hill had been covered with a sedum mat this is where the real test of cooling by evapotranspiration would come into it's own, would pints of larger stay cooler longer if they are placed on a table with a sedum mat? Unfortunately this is quiet detailed research and along with the cooling North Easterly breeze that day the evidence base could not be conclusive and I feel that to give a true scientific response to this question there needs to be lots more research around this particular subject and could possibly take years.
So why is this such a great project? Why should the LLFA be providing funding? Basically this is the community, both residents and business who want to make a difference within their environment, they are driving the solutions and actions they are working together to deliver GI, SuDS, food production etc to benefit their environment and ensure their community is adapting to climate change and increasing their resilience. The funding has helped this project to move forward with a very light touch and arms length approach from officers, this is really a project which is being delivered from the community for the community.