Banging on about SuDS until the whole world listens…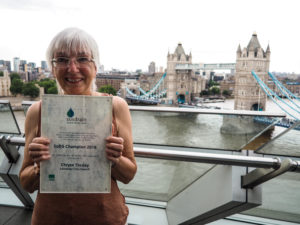 Chyrse Tinsley, Landscape Planner, Leicester City Council
It was a joy and a surprise to be voted the first-ever susdrain SuDS champion at their SuDS Awards in July 2018. It's about more than just quality; it's about the friends you have and the relationships you develop.  For me, the champions' role is about banging on about SuDS until the whole world gets excited – well at least that's what I do – and I am pleased that those I have banged on to still voted for me!

I am landscape planner and this involves commenting on planning applications and getting involved with the development of large schemes. I also get involved with public realm schemes in the city centre, flood management schemes in the wider city area and public art. This all comes under the role of being a landscape architect.
When I joined Leicester City Council 10 years ago, I had worked for Groundwork Trusts in the East Midlands and had just completed an environmental management masters at Nottingham. I was keen to see SuDS in the city and luckily Leicester had a good history of being innovative; Leicester was Britain's first environment city in 1992. It's the sort of place where if you have a good idea and enough energy you can make changes. So, I soon became known as the woman that goes on about trees and SuDS.
I was fortunate to get some funding to spread the word about SuDS (regional funding for design, capacity and knowledge; £15,000). In the early days this funding paid for a full day SuDS workshop, site visits to SuDS schemes and a training day for staff, given by Bob Bray, amongst other things. Fast forward to today, and we have reached the point where most people understand the principles of what we are trying to do. Well, almost. For example, last week one of the highway engineers came out with the classic statement; "you can't do SuDS here because we are on clay" – so, *deep breath* and then I start my short explanation on why you can in fact deliver SuDS. I am not sure I will convince everyone but I will try.
Yesterday, I commented on a planning application where they had planned to install rain gardens, (the site is a care home), but they have since sent in a list of reasons why they now do not want to. Firstly, vulnerable people could fall over the enclosing railings. Secondly, why bother, as it would only take rain water and this would be relatively clean anyway.  And so on. I have replied arguing against each of these and sent some pictures of totally safe rain gardens that add a lot of joy. My approach is to keep calm and be helpful, educating developers on the benefits and reasons for incorporating SuDS into schemes and helping them to see how successful SuDS can be achieved. By contrast, I am working with a private householder who is incorporating a rain garden in their development and does not seem phased by it at all; it can be done.
I love what I do and am hugely grateful to the good people around me who are mostly supportive and helpful and allow me to be; 'the woman that bangs on about trees and SuDS.'
We want to thank Chryse for her thoughts and continued work and efforts to champion SuDS. What do you find the most useful thing to do when championing SuDS? Leave your comments below.