Case study of the month
Queen Caroline Estate in Hammersmith is a low cost SuDS retrofit project delivered as part of the LIFE+ climate proofing social housing landscapes project. A variety of SuDS components have been integrated within the housing estate.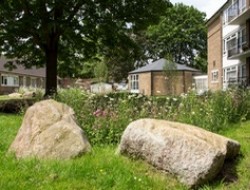 Filter by component type
The extent to which the case studies have embraced the SuDS principles and exemplary good practice will vary and will often reflect the availability of guidance, the brief from the client and the subsequent design criteria and philosophy. However, all examples demonstrate the advantages of SuDS and provide improvements in either water quality, water quantity and amenity/biodiversity compared to traditional drainage. In some cases all of the broad objectives are realised as well as delivering other multiple benefits.